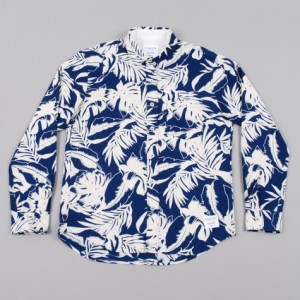 MAIDEN NOIR INDIGO DYE PRINT LS SHIRT – ALOHA PATTERN
Part of the latest drop from Goodhood, the Maiden Noir is a well crafted piece of clothing. It is constructed from imported Hawaiian floral fabric. This screams quality and with the summer pretty much here, this will well at home with your wardrobe.
Maiden Noir is a great brand and still under the radar, take this dye print home today by clicking the link below.
This shirt falls in the SS13 collection from Maiden Noir.
A blue/white colour with floral prints on all parts of the shirt.