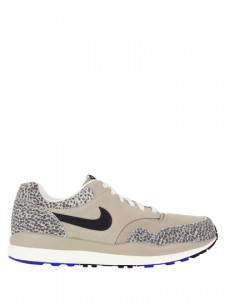 Fresh from Coggles this week we have the Nike Air Safari Vintage Classic Stone Trainer, this new sneak from Nike has many selling points including the canvas, suede and safari print which surrounds the entire sneaker.
As you expect from Nike this comes with the highest quality, usual black swoosh Nike tick on the side. Top of the sneak has white ribbon laces. Bottom panel has a blue, almost purple underbelly.
These sneaks would look great with a pair of dark jeans. I have included an image below which is a birds eye view of the sneaker. I think the picture is more flattering, gives you a good idea of what it looks like.
Follow the link below if you like what you see here.
Available at Crooked Tongues >>