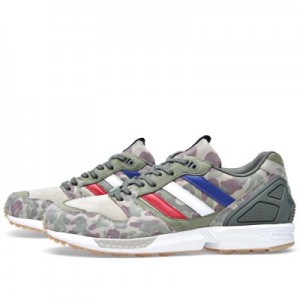 End Clothing are calling this drop of sneaker 'one of the most anticipated launches for many years. At The Stockroom we can see why, the BAPE x Adidas collaboration looks fantastic with the brilliant BAPE camo look and the Adidas stripes, it really looks a sneaker that you can't miss!
The Stockroom is actually going down to the launch event on Thursday so keep your eyes peeled on the blog for some insight into the event and a closer look at the sneaker.
At The Stockroom we are selling one pair of ZX's on eBay! You can grab a pair of the very rare sneakers. Follow this link to the item on eBay
 http://www.ebay.co.uk/itm/Adidas-Consortium-x-BAPE-x-Undefeated-ZX-5000-UK-7-/281096683288?pt=UK_Men_s_Shoes&hash=item4172aaff18
I picked a pair up today! Tell me what you think!