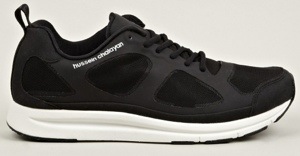 What do you guys think of these Puma sneaks? We are big fans of these sneaks by Puma and we thought we had to write an article about them.
They are currently stocked by okini.
Puma have continued their collaboration with Turkish designer Hussein Chalayan which is gaining critical acclaim from many of our sources.
Clean looking sneak with white lower panel, great looking in our snap.
For more information on this particular sneaker, follow the below link to Oki-ni or ask a question in the comment section below and we will do our best to help!
Available at Oki-ni >>